2022 – 2023 Season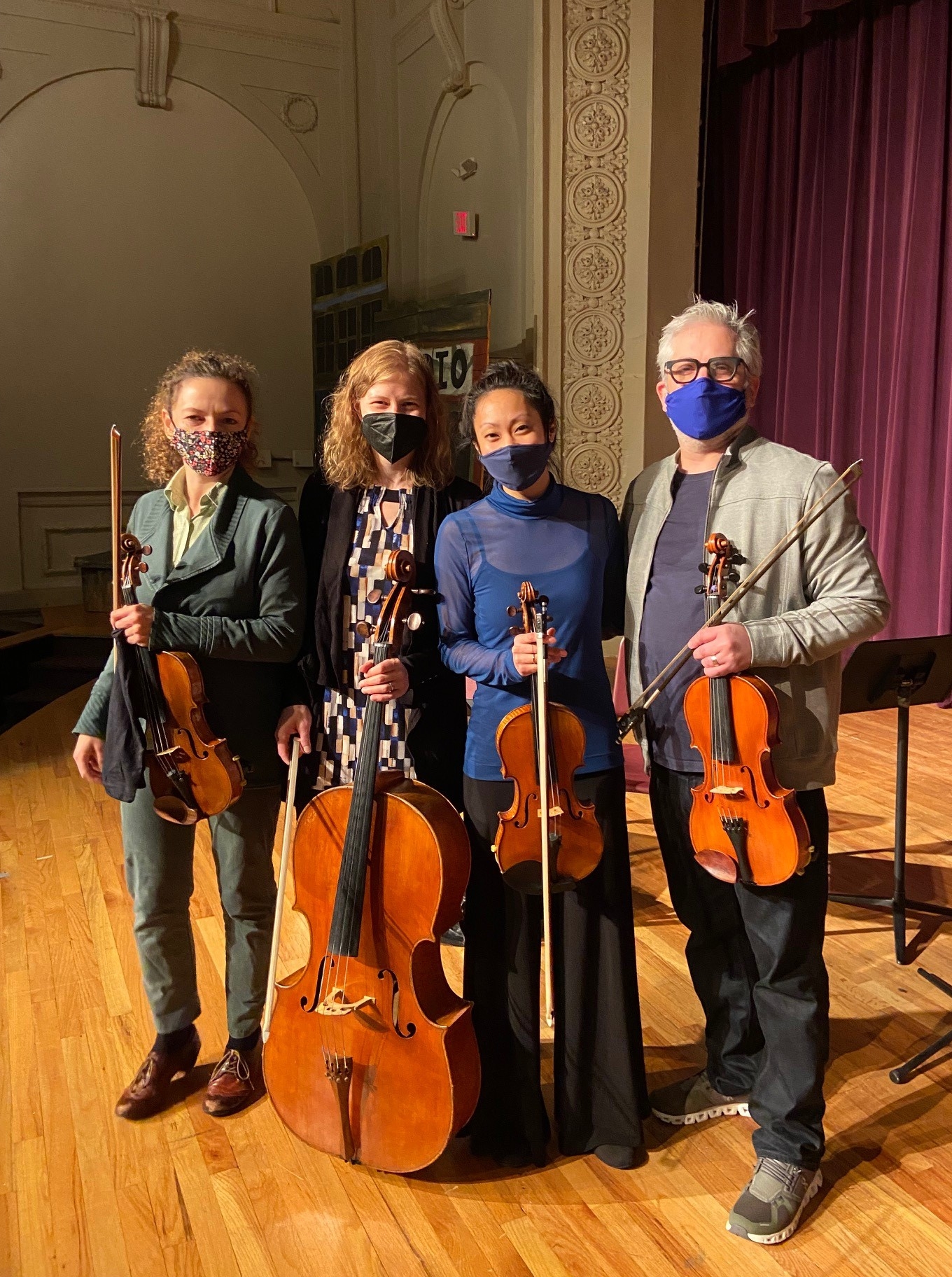 Back in the classroom with Bayberry Quartet
The talented members of the Bayberry Quartet brought music back to our schools on March 9, 2022. It was an extraordinary day. Some local students had not gathered in the theater in two years. Ending this arts drought with the majesty of Mozart and Prokofiev was a stupendous start to our 15th anniversary season.
We visited over 200 students and performed three separate age appropriate concerts, ensuring that every question was answered! We're so grateful to Laura Usiskin, Gabe Bolkosky, Nurit Pacht, and Steffani Kitayama for sharing their gifts with our eager students.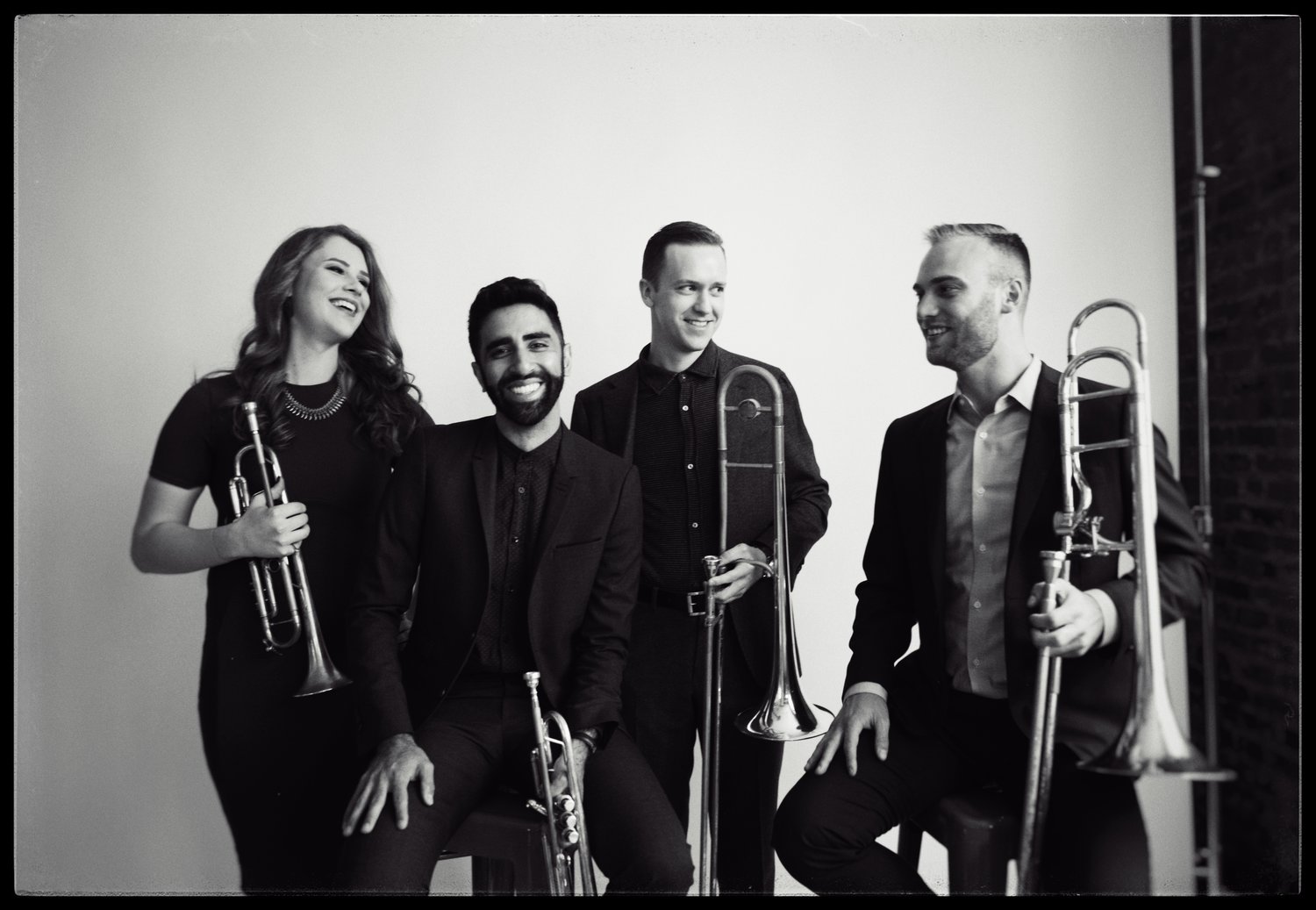 Music Seminars: With The Westerlies
Monday, November 29 and Tuesday, November 30
Acclaimed brass ensemble, The Westerlies, will join us in Montgomery for a conversation series on Art & Activism and Adaptation & Arrangement. These seminars are funded in part by Chamber Music America and hosted by the Rosa Parks Museum at Troy University.
Art & Activism will reflect on the critical influence that art has on social progress movements. It will be a discussion between artists and leaders for social justice. Space is limited to 20 guests.
Adaptation & Arrangement is an interactive class for brass musicians covering the role that adaptation and arrangement have in creating new works. Please bring your instruments!
 Classical Guitar Concert on Wednesday, September 1
We're delighted to present Kevin Manderville, Douglas Back, Kirk Redman, Robert Gibson, and Brian Roughton in concert in the beautiful 1616 House in the Garden District. Kevin Manderville will perform the first place winner of the Composition Competition and a varied selection of pieces for solo guitar. Then after a brief intermission, the debut of The Alabama Guitar Quartet, giving us a second set of arrangements for four guitars. It will be a wonderful night to celebrate new music, new arrangements and classic favorites. Come enjoy a glass of wine outside prior to the concert, and enjoy the stately 1616 House.
Previous Seasons
Proclaimed as "masters of all things musical they survey" by Gramophone Magazine, San-Francisco based string quartet Del Sol performs all across the U.S., with concerts at the Kennedy Center, Library of Congress, Smithsonian Museum & National Gallery of Art in Washington DC, Symphony Space in New York City, Other Minds Festival of New Music San Francisco, Cabrillo Festival of Contemporary Music Santa Cruz, CA, Santa Fe Opera New Music Series, Chautauqua Institution, & the bi-coastal Pacific Rim Festival. Del Sol has also performed internationally at Davos and Hirzenberg Music Festivals (Switzerland) and Chengdu Festival of Contemporary Music Chengdu (China).
Involved in extensive education of young artists, Del Sol has reached thousands of K-12 students through inventive school performances, workshops, coaching and residencies. The Quartet members have also worked closely with student composers, musicians & faculty artists at universities across the country, including Dartmouth, MIT, Brandeis, Northeastern, University of New Mexico, University of California at Berkeley & Santa Cruz, the Manhattan School of Music & the San Francisco Conservatory of Music.
Del Sol's members are Kate Stenberg, Rick Shinozaki, Charlton Lee and Katherine Bates Williams. Their training includes degrees from The San Francisco Conservatory of Music, Eastman School of Music, Indiana University & the Shepherd School of Music from Rice University. All 4 members have Masters' in Music, with Kate finishing from Eastman and being a founding member of the Bay Area contemporary music groups Left Coast and The Real Vocal String Quartet.
Del Sol's six commercial CD releases have been universally praised by critics, including The Strad, which lauded the ensemble's "gloriously opulent, full-throated tone."
In addition to their outreach residency, concert programs during 2014 were "Fast Blue Village", Friday, Feb. 21 and "Places of the Heart", Saturday, February 22.
During 2014, ClefWorks also first met Mohammed Fairouz.
So Percussion arrived in Montgomery on February 5th and performed two ticketed concerts on Friday, February 8 and Saturday, February 9. Both concerts were held at the newly renovated City Auditorium, beginning at 7:30 pm.
With the arrival of ETHEL in 2012 ClefWorks celebrated its 5th birthday and entered an exciting new time of growth.  Under the guidance of President Kimberly Baker and Outreach Chair Lynne Payne, older local students undertook a Cultural Journey with ETHEL demonstrating how contemporary musical compositions were been influenced by popular or folk traditions from around the world.  Younger audiences enjoyed an interactive program of stories through music.  And, for one talented composer – arriving from Paris, France, ClefWorks made the dream of performing a new work of music a reality.
Audiences enjoyed ETHEL's Present Beauty and After Silence concerts at the Capri. Acclaimed as America's premier postclassical string quartet, ETHEL's Montgomery performances infused contemporary concert music with fierce intensity, questioning the boundaries between performer and audience, tradition and technology.
Before coming to Montgomery, the group has played as guest artist on a dozen music labels and was recently featured with vocal group Lionheart on John the Revelator: A Mass for Six Voices by Phil Kline (Cantaloupe, Music, 2008).  They were also featured on Dedicated to You: Kurt Elling Sings the Music of Coltrane and Hartman, which received a 2010 GRAMMY ® for Best Jazz Vocal Album (Concord Records, 2009).
For more information, please visit their webpage.
Fireworks Ensemble presented a uniquely American, 21st-century vision of chamber music for Montgomery audiences in February of 2011. With a repertoire featuring Frank Zappa's instrumental rock, American music favorites, dance music from around the world, and a rock-inspired version of Stravinsky's The Rite of Spring, Fireworks proved to be a flexible chamber ensemble that could literally play anything, regardless of genre, vintage, or orchestration. Each Fireworks program spotlighted a particular aspect of today's music and presented a wide variety of musical styles with a common voice.
Fireworks' mission was to bring its vision of contemporary chamber music to new audiences through its charismatic educational activities and virtuosic, high-energy performances and that it did. For Opening Night, Fireworks came armed with an instrumental arsenal including kazoos, slide whistles, a vocoder, drum machines, a virtual big band, and more.
The eclectic first half of their "Dance Mix" program presented audiences a virtual survey of Western dance music, ranging from the ancient sounds of peasant lutes and viols of the Medieval "Istampita Palamento" to the modern, atmospheric electronics of Aphex Twin's "Analogue Bubblebath," and including just about everything in between, ending with some good old-fashioned disco, the Bee Gees' Saturday Night Fever classic, "Stayin Alive."
Part Two of the program started in Africa and then shifted to Argentina, home of the legendary tango master Astor Piazzolla. After stops in India, for the seductive sounds of Bollywood, audiences enjoyed a brief excursion up north, to the serene and expansive landscape of Norway for a chillingly beautiful suite of traditional folk dances. A gypsy joy-ride followed, with the the tour making its way back home, finishing with Aaron Copland's thoroughly American cowboy romp, "Hoe-Down." It was truly an evening of spirited fun for dance music lovers of any age.
For their second program, Fireworks presented a fantastic program combining Stravinsky's The Rite of Spring with the music of one of America's great musical talents, Frank Zappa. The music of early 20th-century composers, especially Varese, Bartok, and Stravinsky had a profound effect on Zappa, and the influences of these composers can be heard throughout Zappa's music, not only in his extraordinarily complex music for traditional "classical" ensembles, but also in his rock music. Whereas Stravinsky's infusion of folk tunes into his orchestral music helped to give pieces like "The Rite" their visceral, vital flair, Zappa's use of the modernist compositional devices borrowed and adapted from composers such as Stravinsky give his rock pieces a level of sophistication and richness rarely found in popular music. Though primarily known for his rock music, Frank Zappa was a phenomenally gifted composer whose work bridges the worlds of classical and popular music like no other. As a composer of serious "classical" music, Zappa's music stands along side the most challenging and complex of the twentieth century, and has been championed by major classical ensembles and orchestras. As a rock musician, Zappa was a guitar hero and a popular music icon, selling thousands of records and touring throughout the world. For Zappa, it was all just MUSIC, no matter if it was played by an orchestra, a jazz big band, or a rock group. Refusing to limit himself to the conventions of any given genre, Zappa embraced and combined these disparate strands of the sonic universe to create unified musical expressions of incredible depth and originality. Zappa's work presents a vision of music without barriers of style or genre, a model that Fireworks emulated well. On a list of musical categories, Zappa's music is truly "None of the Above." Fireworks' presented a collection of some of Zappa's most significant contributions: his challenging and vibrant works for instrumental rock ensemble. Equally daring both in their sophistication and vitality, these highly virtuosic and uniquely American works proved that the rock band could be a powerful vehicle for serious composition. Fireworks gratefully acknowledged the Zappa Family Trust for their continued support and help in bringing this project to fruition.
Before Fireworks ever hit the ground in Montgomery, ClefWorks was busy preparing potential Brahms and Beethovens for the Ensemble's February visit.  Using funding from the Alabama Arts License Tag Grant Program, ClefWorks engaged MSO cello fellow Laura Usiskin to plan a series of lessons for local children at Flowers Elementary School and the YMCA GoodTimes Program.  Visits from local classically trained musicians introduced kids to instruments used by members of Fireworks, familiarized them with basic musical concepts, and gave them an opportunity to listen to the music they heard during Festival Week.
The entire Montgomery community enjoyed a free American concert at Hampstead Farms, featuring music that ranged from America to Phillip Glass to Aaron Copland's Simple Gifts. 
The was indeed a week of gifts – from musicians to the community, from ClefWorks volunteers to musicians and from supporters like Bravo Sponsor Regions Bank to ClefWorks.  ClefWorks thanks its Concert sponsors the Lowder Family Foundation and LWT Communications.  We also proudly welcome back the Alabama State Council on the Arts as a patron. A portion of the ClefWorks Ignited! season was made possible by a recent grant from ASCA and the National Endowment for the Arts.
Described by the Los Angeles Times as "faces to watch" in music in 2010 and the Washington Post as having "a band-like mentality and a funky, contemporary vibe," JACK took Montgomery by storm the last week of January, playing for ClefWorks' largest audiences ever at ticketed performances held at The Capri and 129 Coosa. JACK premiered David Crowell's winning score, "The Open Road," to a spontaneous standing ovation at 129 Coosa and Young Meadows Presbyterian Church welcomed over 300 children and adults to an educational and entertaining Saturday morning concert of music by JACK and art by Montgomery's 4th graders. ClefWorks Photo Galleries provide a wonderful recap of last week's events, including visits to local schools.
ClefWorks once again reached out to the Montgomery community, touching children and adults who might not otherwise have an opportunity to experience live classical music. Hundreds of children and teens in Montgomery's Public Schools got to know JACK in a special morning concert at Flowers Elementary School and through several memorable afternoon master classes for performing arts students at BTW Magnet High School. In addition, soothing sounds echoed through reception, waiting and treatment areas when JACK played for patients, staff and physicians at the Montgomery Cancer Center.
In addition to the wonderful support of our Bravo sponsor Regions Bank, ClefWorks thanks its Concert sponsors LWT Communications, LLC and The Junior League of Montgomery. We also welcome the Alabama State Council on the Arts as a new patron. A portion of the 2010 Do You Know JACK? season was made possible by a recent grant from ASCA and the National Endowment for the Arts.
Musicians arrived on January 21st to prepare for the Dream On season which was the first full festival since the ClefWorks Premiere Season in August 2007. The festival opened on Thursday evening, January 29, with the engaging sounds of the "Dance and Romance" concert at 129 Coosa. Concertgoers were immersed in the heart-rending melodies and pulse-racing rhythms of Astor Piazzolla's Le Grand Tango, Robert Schumann's Piano Quartet in E-flat, Op. 47, John Adams' Habanera, Johannes Brahms' Hungarian Dances, and Antonin Dvorak's Slavonic Dances while soaking up the intimate atmosphere of 129 Coosa.
Local elementary aged children enjoyed sample music styles ranging from bluegrass to jazz to ragtime to international folk at the ClefWorks Children's Concert on Saturday morning, January 31, at First Baptist Church of Mo