ClefWorks Preps for New Season during Summer Gathering
Published July 27, 2010
by Deborah Hayes Moore
Montgomery Advertiser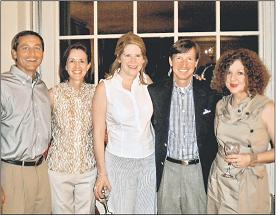 The night air was filled with more than just the sounds of chirping crickets and singing frogs on a recent Tuesday evening. Members of ClefWorks' board of directors and its advisory committee gathered at the lovely home of Glenda and David Allred, where some enticing Latin music took center stage. Glenda, the board's president, planned the evening as a tast of a favorite event from the chamber music organizations' premiere season – the house concert.
The food, fun and tango-inspired selections were just a part of the celebhration of Clef-Workers' hard work as they make final preparations for the organizaton's 2011 festival season in February.
ClefWorks promotes the appreciation of classical music with performances in unique venues and relaxed settings. Making chamber music more accessible and "unstuffy" is one of ClefWorks' main goals, so the house concert is in perfect harmony with that mission. As guests arrived at the soiree, they were immediately offered cocktails and favorite summertime beverages, as well as chesses and decadent desserts including strawberry fluff cake, chocolate truffeles, cheesecake, brownies and blondies.
After mixing and mingling for a bit, all gathered to discuss the progress of ClefWorks artistic committee, whose members are busy listening to music, reviewing program ideas, talking to performers and setting the stage for a fantastic new season which is shaping up to be a stellar event for the arts organizaztion celebrating its fourth year.