Benjamin Sung, violinist, is an active recitalist and chamber musician on stages across the world. Over the summer months of 2006, he gave a live recital taped for broadcast in July 2006 on the PBC television network in Seoul, South Korea; appeared as soloist and guest teacher at the Festival Inverno de Garanhuns in Pernambuco, Brazil; and performed under Pierre Boulez as a member of the Lucerne Academy at the Lucerne Festival, Switzerland. Recent appearances in the United States include an invitation to perform in the Carnegie Hall premiere of the Chamber Symphony of John Adams in March 2005.
Mr. Sung has long been an enthusiastic interpreter of contemporary works, beginning with his time as a member of the Indiana University New Music Ensemble from 1999 to 2003. This tenure included appearances on the Ensemble's 2003 West Coast Tour, with stops in Seattle, Portland, San Francisco, and Los Angeles. In recent seasons, Mr. Sung has given summer festival performances of the Berg Kammerkonzert and Black Angels by George Crumb. Mr. Sung is also a member of the Arsenal Trio, with whom he performed for the 2006 New Music Festival at the University of Louisville in a concert of six world premieres for piano trio.
Mr. Sung has received a Doctor of Music degree from Indiana University, where his dissertation examined the concerted works of Béla Bartók. He holds a Masters degree from Indiana as well, and his Bachelor's degree from the Eastman School of Music. Mr. Sung served as ClefWorks initial Executive Director and then as its Artistic Director.  He now resides in Tallahassee, Florida.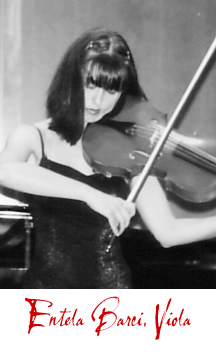 Violist Entela Baric is a native of Tirana, Albania. She has performed extensively throughout the New York metropolitan area as soloist and with chamber and orchestral ensembles. Her musical activities have taken her across North and South America, Europe, and Australia.
An active chamber musician, Entela participated in the Metropolitan Museum of Art Concerts and Lectures Series, Maiden Lane's Arts in the Atrium Concert Series and Irish America Concert Series. As an orchestral musician she has performed with The New Philharmonic of New Jersey, Haddonfield Symphony, Jupiter Symphony, New Jersey Symphony and the Lyric Opera of New Jersey.
She has performed in many of the major concert halls of New York, including Carnegie Hall, Avery Fisher Hall, Alice Tully Hall, 92nd Street Y and Trinity Church. She has appeared in Chamber music recitals at the Weill Hall, where she was part of the Amici Piano Quartet performing the complete Brahms and Mozart Piano Quartets.
Ms. Barci has attended several music festivals including Spoleto Music festival, Tanglewood, Ravinia Music Festival, Aspen Music Festival, and Summit Music Festival.
Entela received a Bachelor of Music and a Masters degree in viola performance at the Juilliard School having studied with Eugene Becker and Samuel Rhodes.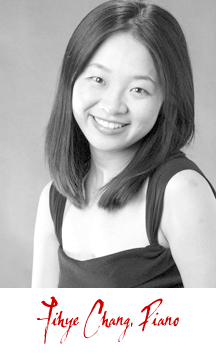 Jihye Chang, pianist, has appeared as soloist and collaborative artist in venues throughout the United States, the United Kingdom, Costa Rica, Canada, Honduras, and Korea. Her performances have been broadcast on KBS and PBC Korea and Costa Rica Classical Radio, and she has appeared as a soloist with the Wonjoo Philharmonic Orchestra, the Sun-Hwa Philharmonic Orchestra, the Indiana University New Music Ensemble, and the Hot Springs Festival Ensemble.
She is a recipient of many prizes and scholarships, including the Henry Kohn Award for outstanding achievement at the Tanglewood Music Center, the President's Award as well as a full merit scholarship from Seoul National University, the Music Merit Scholarship from Indiana University, and the Grand Prize from Samick Piano Competition, Korea. She has released several commercial CDs including "Piano for Easy Listening" on Sony/ BMG Korea, and "Classics for Children" on Seoul Record, Korea. Most recently she has completed a long-term residency at the Banff Arts Centre, and she is an artist in residence for the newly created ClefWorks Chamber Muic Festival in Montgomery, Alabama.
Ms. Chang has been an enthusiastic interpreter of works by contemporary composers, and has worked with composers including Steven Stucky, John Harbison, Claude Baker, David Dzubay, George Perle, and Steve Rouse. With the Arsenal Trio, she recently presented the Premiere Collaborative at the 2006 New Music Festival of the University of Louisville: a residency culminating in the performance and recording of six world premieres for piano trio.
Ms. Chang holds the degrees of Doctor of Music and Master of Music in Piano Performance from the Jacobs School of Music at Indiana University, where she served as an Associate Instructor for Piano and as the theory instructor for the String Academy. Her primary teachers were György Sebök, Reiko Neriki, and Edward Auer. She received her Bachelor's degree Summa cum laude from Seoul National University.
Georgia native Gabriela Diaz began her musical training at the age of five, studying piano with her mother, and the next year, violin with her father. Shortly before her sixteenth birthday, she was diagnosed with Hodgkin's Disease, a type of lymphatic cancer. She was treated with chemotherapy and radiation at Egleston Children's Hospital in Atlanta and the Medical Center in Columbus.
As a cancer survivor, Gabriela is committed to cancer research and treatment. She has lent her talents to a wide range of related programs and organizations, including the American Cancer Society, the Leukemia and Lymphoma Society, Hasbro Children's Hospital, Beth Israel Hospital, Mount Auburn Hospital, The Race for the Cure, OnCare, Inc., the Columbus Medical Center, and the Egleston Children's Hospital at Emory University in Atlanta. Last year Gabriela was a recipient of a grant from the Albert Schweitzer Foundation. This grant enabled Gabriela to begin organizing a series of chamber music concerts in cancer units at various hospitals in Boston called the Boston Hope Ensemble. In addition to these hospital concerts, Gabriela organized two benefit concerts for cancer research organizations.
Gabriela has attended the Aspen Music Festival, the Sarasota Music Festival, and has performed at the Kingston Chamber Music Festival, the Rockport Chamber Music Festival, Vail Valley Bravo Music Festival, and the Lucerne Festival Academy, among others. Devoted to contemporary music, Gabriela has been fortunate to work with many significant living composers, namely Pierre Boulez, Magnus Lindberg, Frederic Rzewski, Alvin Lucier, John Zorn, Osvaldo Golijov, Michael Gandolfi, Lee Hyla, and Helmut Lachenmann. In 2003 she won the BMOP/NEC concerto competition, playing John Zorn's Contes des Fees with the Boston Modern Orchestra Project. She also became the youngest person to ever record the Ligeti Violin Concerto, recorded for Mode Records with New England Conservatory's Contemporary Ensemble (not yet released). Gabriela received her Bachelor's degree from the New England Conservatory of Music, studying with James Buswell. At graduation, she was awarded the John Cage Award for her contribution to new music, and the Chadwick Medal, the highest award bestowed on undergraduates at NEC. She has currently completed her second year of Master's study at NEC.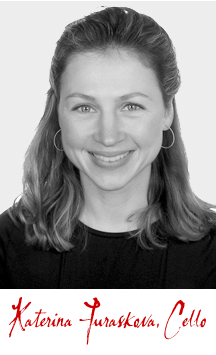 Katerina Juraskova's many prizes, including Second Place in the Beethoven International Competition and First Place in both the McGill/Canadian Broadcasting Company Concerto Competition and the Music Academy of the West Concerto Competition, have set her apart as a player of distinction. She was the recipient of the Fonorola Montreal Young Artist Award and the Esperia Foundation Award.
Miss Juraskova has had extensive orchestral experience as Principal Cello of the McGill Chamber Orchestra, La Pieta Chamber Orchestra, The National Academy Orchestra, The Music Academy of the West Festival Orchestra and the Prager Symphonikers. She has performed as a chamber musician to great acclaim at festivals in Canada, Belgium, Sweden and Japan. She just completed her first year of a two-year cello fellowship with the Montgomery Symphony Orchestra in Montgomery, Alabama.
A native of the Czech Republic, Miss Juraskova holds a Doctorate in Cello Performance from McGill University; Diplomas from The Conservatoire de musique, The International Meunhin Music Academy and The Conservatoire Europeen de musique de Paris; and a Bachelors degree from The Prague State Conservatory.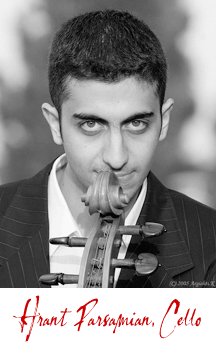 Winner of the Cello Fellowship with the Montgomery Symhpony Orchestra, Hrant Parsamian is the top prize winner in International Competitions including, Houston Symphony Ima Hogg, Olga Koussevitzky, HAMS, and Hudson Valley. He is an extensive solo as well as chamber music performer who, has appeared frequently in venues such as Weill Recital Hall, Alice Tully Hall, Landon Gallery, World Bank in Washington D.C., Music Gettysburg, Banff Center for the Arts, Orford concert series. Recently he has collaborated with artists such as Hans Graf, Carlos Prieto, Vladimir Ashkenazy, Zakhar Bron, Natalya Shakhovskaya, Franz Helmerson, Richard Watkins, and Hansjorg Schellenberger.
Born in Bulgaria, Hrant Parsamian started playing the cello at an early age under the guidance of his mother who is also a cellist. His first recital was at the age of six. Two years later he gave his debut as a soloist performing C.P.E. Bach's Cello Concerto.
Hrant Parsamian holds bachelor degrees from The Hochschulle fur Music in Wien, The Juilliard School, and received his Masters of Music form Yale School of Music.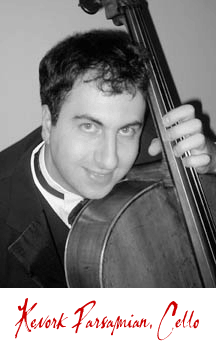 Cellist Kevork Parsamian was born in Sofia, Bulgaria. He began his cello studies at the age of four under the tutelage of his mother, later continuing his studies with Anatoli Krastev at the Sofia music school. In 1995, Kevork came to the United States, where he completed his bachelor degree at the University of Cincinnati with Yehuda Hanani, his master's degree at Indiana University with Janos Starker, and an Artist Diploma at Yale University School of Music, with Aldo Parisot.
Kevork has received many scholarships and prizes, including first prize in the Bulgarian National Music Competition, the Lima Symphony Competition in Lima, OH, and the Cincinnati University concerto competition. He has been awarded full scholarships from the University of Cincinnati, Indiana University, Yale University, and was granted an impressive award to study at the Aspen Music Festival in 1996. Kevork has been featured as guest soloist with the University of Cincinnati orchestra, the Indiana Symphony Orchestra, the Lima Symphony Orchestra, the Mannes Community Orchestra, and the Bulgarian National Orchestra. In 2005 he performed in Carnegie's Weill Recital Hall on the "Treasures of Bulgaria" series. His concerts have been broadcast on Bulgarian radio and television.
Kevork is also an active chamber musician. During his stay at Indiana, his string quartet won the prestigious Kutner award, a residency position that is awarded to only one chamber ensemble per year. He has worked with such notable artists as the Tokyo String Quartet, Peter Oundjian, Ani Kavafian, Mauricio Fuks, and Paul Biss.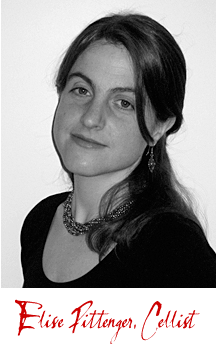 Having studied literature at Yale and performance at Rice University, cellist Elise Pittenger now brings her artistic interests together in her studies of instrumental musical theatre at McGill University, where she is pursuing her doctorate with cellist Matt Haimovitz. Elise has a background in a wide range of musical styles. In addition to her chamber music experience at Peabody, Rice, McGill, and festivals such as Tanglewood and Spoleto, she has played under the batons of Kurt Masur, Rafael Frübeck de Burgos, Charles Dutoit, Kent Nagano, Seiji Ozawa, and Larry Rachleff. She has also studied baroque cello with the Toronto-based ensemble, Tafelmusik, and worked with Yo-Yo Ma and the Silk Road Ensemble, combining tradition eastern and western musics.
In Montreal, Elise has become very active in contemporary music and has been a member of McGill's Contemporary Music Ensemble for the last two years, soloing with the group in October, 2006. She also plays with the cello ensemble, UCCELLO, performing works by Boulez, Matalon, Zappa, and Led Zeppelin, in Canada and the US. These ensembles have taken her to venues as diverse as Weill Hall, Philadelphia's World Cafe, and Montreal's techno-night club, La Société des Arts Technologiques. In Montreal Elise also participates in the city's contemporary improvisation community, and she incorporates improvisation into both her performing and teaching work.
Elise is particularly committed to bringing performers to underserved communities; she has helped to coordinate performances in schools and community centers in Houston, Baltimore, and Tegucigalpa, Honduras. She is a dedicated teacher of everything from ESL to chamber music and has taught and coached at schools and festivals in Barcelona, Spain, Houston, Baltimore, New Haven, and Honduras, and Montreal. At McGill she is assistant to Prof. Matt Haimovitz. Her teachers include Ron Thomas, Pansy Chang, Rhonda Rider, Norman Fischer, and Matt Haimovitz.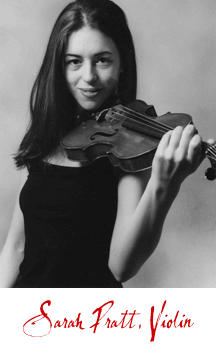 Sarah Pratt was a prizewinner at the 2003 Jeunesses Musicales International Violin Compitition, first prize winner in the Toronto Symphony Youth Orchestra Concerto Competition, the University of Toronto Concerto Competition, and Silver Medal winner in the Canadian National Music Competition. At the age of 14 she made her solo debut with the Manitoba Chamber Orchestra at the Guelph Spring Festival. Since then she has performed with many orchestras, including the Toronto Symphony, Allentown Symphony, University of Toronto Symphony and Chamber Orchestras. She was a recipient of the Kathleen Parlow, and Andrew A. Kinghorn scholarships from the University of Toronto; full tuition scholarships from Yale School of Music; tuition scholarships, and the Mitchell Stern scholarship, from SUNY Stony Brook.
Recital appearances include the British Art Museum (New Haven, CT), Bargemusic, the Kitchener-Waterloo Chamber Music Society and Stratford Summer Music Festival (Canada), the Arts and Letters and Heliconian clubs of Toronto, and the Rupert Scheider Concert Series at the University of Toronto. She gave the University of Toronto premiere of Davidovskiâ's Synchronisms No. 9 in 1997.
Sarah is currently a member of the New York City Opera orchestra, a position she won in November, 2006. She will appear as associate concertmaster, and concertmaster, of the Florida Orchestra in December/January 2006-07. She has been concertmaster of the Hartford Symphony, the New Haven Symphony, the Canturbury Choral Society Orchestra, and others. Sarah is on faculty at the Third Street Music School Settlement, both as a private teacher and chamber music coach. She is a member of the first violin section of the New Haven Symphony Orchestra.
Sarah holds a Bachelor in Performance Degree from the University of Toronto, Masters Degree and Artist Diploma from Yale University. She is a Doctoral Candidate at SUNY Stony Brook. Major teachers have been David Zafer, Peter Oundjian, and Ani Kavafian. Other teachers have included Pamela Frank, Pinchas Zukerman, Lorand Fenyves, members of the Brentano, Tokyo, Emerson, and St. Lawrence string quartets. Summer music festivals include The Great Lakes Chamber Music festival, Taos School of Music, Tanglewood, Encore School for Strings, the Colorado Springs Music Festival, the National Arts Center Festival, Domain Forget, and the National Youth Orchestra of Canada.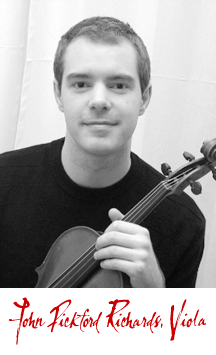 John Pickford Richards holds degrees from the Interlochen Arts Academy and Eastman School of Music where his primary teachers were David Holland and John Graham.
Chiefly obsessed with new music, John is a founding member of the ensemble Alarm Will Sound, bringing him together with such composers as John Adams, Wolfgang Rihm, Meredith Monk, and Steve Reich at venues including Carnegie Hall, Lincoln Center, Miller Theatre, and Merkin Concert Hall. Alarm Will Sound has held residencies at Harvard University, the Massachusetts Institute of Technology, New York University, Duke University, and Dickinson College.
In addition to his work with Alarm Will Sound, John is a founding member of the JACK Quartet, which has been fortunate enough to work closely with composer Helmut Lachenmann on his String Quartet No. 3 Gridoâ at the Internacional de Contemporánea de Michoacán in Morelia, Mexico, the Lucerne Festival Academy in Switzerland, and the Pro-Bio Foundation Summer School in Blonay, Switzerland. The quartet has studied with the Arditti Quartet and Kronos Quartet and continues to build its repertoire with today's most recent music.
John has performed as soloist with the Pasadena Symphony, Armenian Philharmonic, Ossia New Music, and recently performed the solo part to Luciano Berioâ's Chemins II under Pierre Boulez with the Lucerne Festival Academy Orchestra. He taught for three years at Dickinson College in Carlisle, Pennsylvania and has also taught at summer camps, in city and rural public schools, and in continuing education.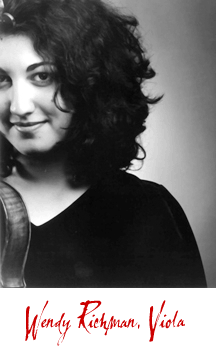 Hailed by The Washington Post for her "fresh and idiomatic" performances with "a brawny vitality," violist Wendy Richman has appeared as a soloist and chamber musician across the U.S. and Europe. She has performed at venues from American Repertory Theatre to Miller Theatre, MassMoCA to the Phillips Collection, and Symphony Space to the Gewandhaus. Recent and upcoming appearances include Boston's Jordan Hall, Oberlin Conservatory of Music, the American Academy in Rome, Longy School of Music, St. Paul's Chapel and Merkin Concert Hall in New York City, and the Lucerne and Edinburgh Festivals. Ms. Richman appeared on WCRB-Boston's Tuesdays at Noon series, and she has also been heard on WGBH-Boston, WFMT-Chicago, WQXR-New York, and WETA-Washington, D.C. Since 2005, she has been a member of White Rabbit, Artists-in-Residence with the Harvard Group for New Music at Harvard University.
Ms. Richman has received particular praise for her interpretations of new music and has collaborated closely with a wide range of composers, including John Luther Adams, Pierre Boulez, George Crumb, Brian Ferneyhough, Sofia Gubaidulina, Lee Hyla, David Lang, Alvin Lucier, Jeffrey Mumford, Matthias Pintscher, Bernard Rands, Augusta Read Thomas, Ken Ueno, Christian Wolff, and Hillary Zipper. In 2002, she and percussionist Timothy Feeney gave the fully-staged American premiere of Luciano Berio's Naturale on the International Contemporary Ensemble's all-Berio concert at Theater Building Chicago. Ms. Richman can be heard on Albany Records, AURec, Between the Lines, Bloodshot Records, Mode Records, and NAXOS.
Ms. Richman has appeared at such summer festivals as Aspen, Bravo!, Norfolk, San Juan, and Yellow Barn. In the summers of 2005 and 2006 she worked with Pierre Boulez and the Ensemble Intercontemporain at the Lucerne Festival Academy, focusing on 20th- and 21st-century repertoire. A graduate of the Oberlin Conservatory, where she studied viola with Jeffrey Irvine and Peter Slowik and voice with Marlene Rosen, Ms. Richman received her master's degree from the New England Conservatory of Music, under the guidance of Kim Kashkashian and Carol Rodland. She has been recognized in the Primrose, American String Teachers Association, Chicago Viola Society, Civic Music of Milwaukee and Ruggeri competitions. She currently resides in Boston and serves as assistant principal viola with the Portland (Maine) Symphony Orchestra. In Boston, she performs with the Radius Ensemble, Boston Modern Orchestra Project and the Callithumpian Consort. She also teaches violin and viola privately, at St. George's School in Newport, RI, and at the University of Massachusetts-Dartmouth. Ms. Richman is a founding member of the International Contemporary Ensemble (ICE), who perform regularly in New York and Chicago and are Artists-in-Residence at Columbia College in Chicago. ICE is a collective of young performers and composers committed to bringing contemporary classical music to a wider audience (www.iceorg.org).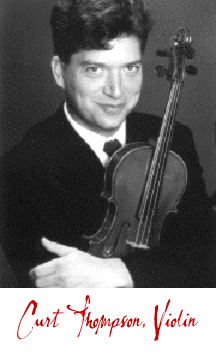 Curt Thompson is Founder and Executive Director of the Mimir Chamber Music Festival, held annually at TCU where he serves as Associate Professor of Violin and Director of Chamber Music studies. A native of Arkansas, Mr. Thompson has performed recitals throughout Europe, Central America, and South America including performances at Salle Gaveau (Paris), the Bulgarian State Academy of Music (Sofia), and the Teatro Nacional de Costa Rica (San José). In March 2005 he performed with TCU colleagues Messrs. Feghali and Castro-Balbi at Carnegie's Weill Recital Hall, featuring the world premiere of Search for Piano Trio by composer Samuel Zyman. Thompson has been a featured artist in the Copland/Shostakovich Festival in Rio de Janeiro, the Festival de Primavera in Oaxaca, Mexico, and the Seventh Centennial Festival of Villarobledo, Spain. His debut recording on the Naxos label of the violin sonatas by Charles Ives has received outstanding reviews worldwide, including Gramophone, The Strad, The Wire, and the New York Times, where it was called "…a hole in one…perfectly demonstrating [Ives'] spicy, earthy rawness and appeal…." Performances for north Texas audiences have been included in the 'Top 10' musical events of the year in both the Dallas Morning News and Fort Worth Star-Telegram. As a concerto soloist, Mr. Thompson has appeared with several orchestras including the Corpus Christi Philharmonic, the San Angelo Symphony Orchestra, the Texas Chamber Orchestra, and the Medellín Philharmonic Orchestra (Colombia).
In addition to his duties at TCU, he has given master classes at several institutions including the Bulgarian State Academy of Music (Sofia), El Escorial Conservatory (Spain), University of Saõ Paulo (Brazil), and the Royal Academy of Music (London). He has served as Concertmaster of the Fort Worth Symphony (by special invitation), the Spoleto Festival Orchestra (Italy), the San Angelo Symphony Orchestra, and the Texas Chamber Orchestra. During the Spring 2002 semester, he maintained a violin studio as Guest Artist/Lecturer at his alma mater, Indiana University, where years earlier he received Bachelor and Master of Music degrees and was awarded a Performer's Certificate while studying with Nelli Shkolnikova. The following year Thompson completed the Doctor of Musical Arts degree at Rice University where he studied with Sergiu Luca.