Xak Bjerken, Piano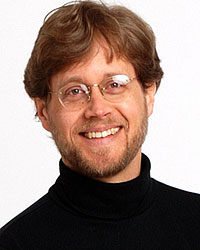 Pianist Xak Bjerken has performed solo and chamber music recitals in Europe and throughout the United States. He has made orchestral solo appearances in Edinburgh with the Scottish Chamber Orchestra, in Rome with the Spoleto Festival Orchestra and in Disney Hall, Los Angeles, with members of the LA Philharmonic. Xak has also performed at the Royal Concertgebouw Hall in Amsterdam, at Alice Tully Hall, Weill Hall and at the Kennedy Center. He has also given recitals in Germany, Switzerland, Spain and Hungary.
Xak is the pianist of the Los Angeles Piano Quartet, which tours the U.S. regularly, and with his wife, pianist Miri Yampolsky, he directs MAYFEST, an annual chamber music festival in Ithaca, New York. In addition, he has directed three festivals of 20th-century music: "Angels, Saints and Birdsong: A Messiaen Festival," "Through the Iron Curtain: Music of Eastern Europe and the Former Soviet Union" and "The Stravinsky Project." Mr. Bjerken has held chamber music residencies at the Tanglewood Music Center and the Festival of Two Worlds in Spoleto, Italy. He has performed for ClefWorks as well as the Olympic Music Festival and the Tucson Winter Chamber Music Festival, and he has served as well on the faculty of the Eastern Music Festival.
Xak's first solo recording for CRI, High Rise, was released in 2001. He has also recorded for Chandos, Albany Records, Fleur de Son and Koch International, and in March of this year a cd of Stephen Hartke's solo and chamber music will be released by Chandos. He has also made three recordings with violist Michael Zaretsky for the Artona label. Mr. Bjerken earned his bachelor's degree cum laude at UCLA, studying with Aube Tzerko, and his master's and doctoral degrees from the Peabody Institute as a student and teaching assistant to Leon Fleisher.
Hrant Parsamian, Cello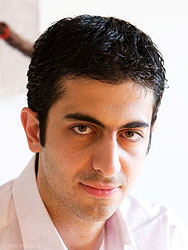 Hrant Parsamian's interests range from the solo cello repertoire to chamber music and orchestral playing. He has recently been a soloist with the Houston Symphony and Montgomery Symphony Orchestra. Mr. Parsamian has been a prize winner in international competitions including Houston Symphony Ima Hogg Competition, Olga Koussevitzky Competition, Holland American Music Society Competition, and the Hudson Valley Competition. He is also a past Cello Fellow of the Montgomery Symphony, and has been an active ClefWorks musician since the organization's inception.
Hrant is also an extensive collaborative artist, and has appeared frequently in venues such as Weill Recital Hall, Alice Tully Hall, Music Gettysburg, Banff Center for the Arts, and the Orford concert series. Recently he has collaborated with artists such as Hans Graf, Carlos Prieto, Vladimir Ashkenazy, Zakhar Bron, Natalya Shakhovskaya, Franz Helmerson, Richard Watkins, and Hansjorg Schellenberger. Together with violinist Benjamin Sung and pianist Jihye Chang, Hrant is a founding member of the Arsenal Trio, with recent performances at the University of Louisville New Music Festival and the Gregory Singer Concert Series in New York.
Born in Bulgaria, Hrant Parsamian began his cellos studies early under the guidance of his mother, giving his first recital at the age of six. Two years later he gave his debut as a soloist performing the cello concerto of C.P.E. Bach. Hrant Parsamian holds bachelor degrees from the Hochschule fur Music in Vienna and The Juilliard School, and received his Masters of Music from Yale University where he studied with world renowned cellist Aldo Parisot.
John Pickford Richards, Viola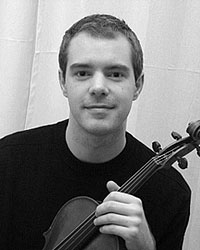 John Pickford Richards holds degrees from the Interlochen Arts Academy and Eastman School of Music where his primary teachers were David Holland and John Graham.
Chiefly committed to new music, John is a founding member of the new music ensemble Alarm Will Sound, bringing him into contact with composers Steve Reich, David Lang, John Adams, and Wolfgang Rihm at venues including New York's Carnegie Hall, Amsterdam's Muziekgebouw aan 't IJ, and Moscow's International Performing Arts Center. Former Artists-in-Residence at Dickinson College, Alarm Will Sound has worked with students at Harvard University, the Massachusetts Institute of Technology, New York University, and Duke University.
In addition to his work with Alarm Will Sound, John is a founding member of the JACK Quartet, a string quartet focused on new music, which has been fortunate enough to work closely with composers Helmut Lachenmann, Wolfgang Rihm, Samuel Adler, and Matthias Pintscher with appearances at Carnegie Hall, La Biennale di Venezia, the Lucerne Festival, and the Festival Internacional Chihuahua. Since forming, the quartet has studied closely with the Arditti Quartet, Kronos Quartet, Muir String Quartet, and members of the Ensemble Intercontemporain.
John was a ClefWorks Premiere Season musician, and has performed as soloist with the Pasadena Symphony, Armenian Philharmonic, Ossia New Music, and performed the solo part to Luciano Berio's Chemins II under Pierre Boulez with the Lucerne Festival Academy Orchestra.
Andy Simionescu, Violin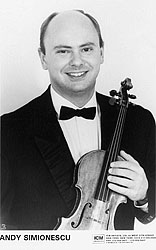 Romanian-born violinist Andy Simionescu continues to enjoy an extremely active and multi-faceted performing career. He is a graduate of the Curtis Institute of Music where he studied with Szymon Goldberg. Andy was a First Prize winner in the Concert Artists Guild and the Washington International Competitions and was awarded the Silver Medal and Prize for Commissioned Work at the 1987 Montreal International Violin Competition. A Presidential Scholar in the Arts, he was also the recipient of a Career Grant from the Yale Gordon Trust.
Andy's solo performances have been praised by critics for their "passion" and "elegance" and have taken him to the stages of Carnegie Hall, Lincoln Center, Vienna's Musikverein, Tokyo's Casals Hall and throughout the United States, Europe and Asia. He was awarded a fellowship with the Montgomery Symphony Orchestra where he led the orchestra in several concerts. As Artistic Director of Performers of Westchester since 1998, Andy has played over sixty concerts in diverse collaborations with such artists as Pamela Frank (his wife), Leon Fleisher, Claude Frank, Gary Graffman, Jeremy Denk, Anthony Newman, Ed Arron, Nathaniel Rosen, Ron Thomas, Peter Wilcy, Paul Coletti, Toby Appel, Paul Neubauer, Cynthia Phelps, Eugenia Zukerman, Ricardo Morales, and Ben Verdery. He is a member of the Raphael Trio, and Visiting Artist with the Kansas City String Quartet Program.
He plays on a Sergio Peresson violin, which was made for him in 1983. An avid tennis player, Andy makes his home in the New York area.
Ben Sung, Violin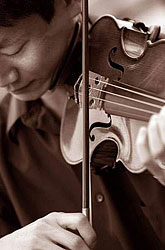 Ben is a founding member of ClefWorks, Inc. and is also ClefWorks' Artistic Director. He is coming to us from Fargo, North Dakota where he is Concertmaster of the Fargo-Moorhead Symphony Orchestra. He is also a faculty member at both Minnesota State University-Moorhead and North Dakota State University, and is the Series Director of the Cheryl Nelson Lossett Performing Arts Series at MSUM.
This past summer, Ben was honored with an invitation to be Guest Concertmaster of the Trondheim Symphony Orchestra in Norway. He was also a featured soloist and teacher at Festival Invierno de Garanhuns in Brazil! Along with that, his piano ensemble, called the Arsenal Trio, was selected for the Chamber Music Residency at the Banff Centre for the Arts.
Ben has also performed as soloist with the Fargo-Moorhead Symphony Orchestra, National Repertory Orchestra, Montgomery Symphony Orchestra, Texas Music Festival Orchestra and the Solistas do Virtuosi of Festival Internacional de Musica in Recife, Brazil. He has participated in the Professional Training Program at Carnegie Hall, the Lucerne Festival Academy in Switzerland and at the New York String Seminar.
His accomplishments also include being selected as winner of the Eastman School of Music Starling Award, the Gladys Gingold Scholarship at Indiana University and the Violin Fellowship competition of the Montgomery Symphony. He has also recorded the music of composers Steve Rouse and Marc Satterwhite for the Centaur label. Ben Sung holds a Bachelor's degree from the Eastman School of Music, where he studied with Oleh Krysa, and Master's and Doctorate degrees from the Indiana University Jacobs School of Music, where he studied with Nelli Shkolnikova. He has also studied with Fredell Lack, Sonya Monosoff, Ida Kavafian and Mitchell Stern.
Ben and his wife Jihye moved from Montgomery to Fargo last year, and there he is enjoying running, watching the snow fall and everything that comes out of Jihye's kitchen.
Kevin Manderville, Guitar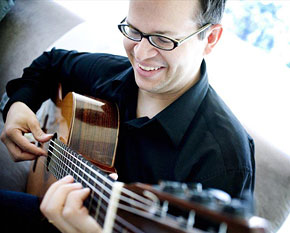 Kevin Manderville is active as a solo recitalist, chamber musician, and member of the Tantalus Quartet, appearing in major cities and festivals throughout North America and Europe. He has won prizes in several international competitions, including first prize at the Concours International de Guitare de Lachine, second prize at the Rantucci International Guitar Competition and consecutive top prizes at the Columbus Guitar Symposium Competition. He holds degrees from Stetson University, where he studied with Stephen Robinson and Florida State University, where he completed the Doctor of Music degree under the tutelage of Bruce Holzman. In addition, he has studied in masterclasses with some of today's most prominent guitarists, including Sergio and Odair Assad, Manuel Barrueco, Eliot Fisk, Roland Dyens, and Oscar Ghiglia. A dedicated teacher, Dr. Manderville has taught in many diverse settings from universities to community programs. He currently resides in Montgomery, AL, where he directs the classical guitar program at Carver Elementary Arts Magnet School and is on the faculty at Troy University.