2014 Festival Musicians: Del Sol String Quartet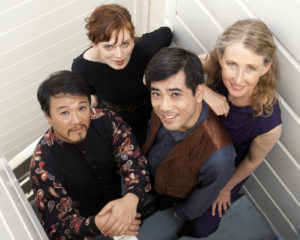 Proclaimed as "masters of all things musical they survey" by Gramophone Magazine, San-Francisco based string quartet Del Sol performs all across the U.S., with concerts at the Kennedy Center, Library of Congress, Smithsonian Museum & National Gallery of Art in Washington DC, Symphony Space in New York City, Other Minds Festival of New Music San Francisco, Cabrillo Festival of Contemporary Music Santa Cruz, CA, Santa Fe Opera New Music Series, Chautauqua Institution, & the bi-coastal Pacific Rim Festival. Del Sol has also performed internationally at Davos and Hirzenberg Music Festivals (Switzerland) and Chengdu Festival of Contemporary Music Chengdu (China).
Involved in extensive education of young artists, Del Sol has reached thousands of K-12 students through inventive school performances, workshops, coaching and residencies. The Quartet members have also worked closely with student composers, musicians & faculty artists at universities across the country, including Dartmouth, MIT, Brandeis, Northeastern, University of New Mexico, University of California at Berkeley & Santa Cruz, the Manhattan School of Music & the San Francisco Conservatory of Music.
Del Sol's members are Kate Stenberg, Rick Shinozaki, Charlton Lee and Katherine Bates Williams. Their training includes degrees from The San Francisco Conservatory of Music, Eastman School of Music, Indiana University & the Shepherd School of Music from Rice University. All 4 members have Masters' in Music, with Kate finishing from Eastman and being a founding member of the Bay Area contemporary music groups Left Coast and The Real Vocal String Quartet.
Del Sol's six commercial CD releases have been universally praised by critics, including The Strad, which lauded the ensemble's "gloriously opulent, full-throated tone."
In addition to their outreach residency, concert programs during 2014 were "Fast Blue Village", Friday, Feb. 21 and "Places of the Heart", Saturday, February 22.
During 2014, ClefWorks also first met Mohammed Fairouz.